With our hens starting to lay, our fridge was getting full of eggs. We're getting between 8 and 10 eggs a day now with more hens to start up as we go (today I got 11 eggs!). So after 2.5 wks of gathering we needed to deal with the surplus. That can only mean one thing....scrambled eggs for dinner!!!!

So I gathered the ingredients...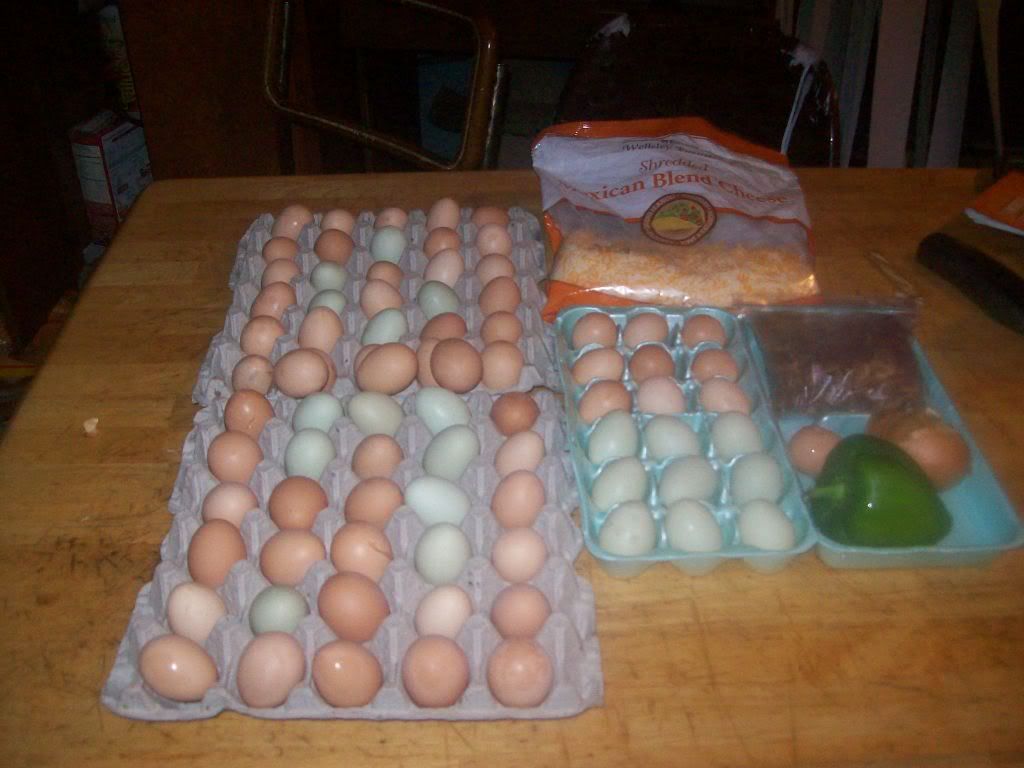 That's 2 short of 7 dozen eggs (yes, those are green eggs...aren't they pretty!) They're on the small side....starting to become medium.
1 bag of precooked and previously frozen bacon
shredded mexican cheese blend
green pepper (I added another pepper after I took the picture)
and a yellow onion

Because some people in this house have aversions to onions (makes them physically ill) I made 2 large pans of eggs...one with onion and one without...all the other ingredients were the same. Usually when I make scrambled eggs I dole out the servings and there isn't any left for seconds. For the first time in a while everyone was allowed to eat as much as they wanted.

Dinner was declared a hit. I'm left wondering though...how many weeks can we have scrambled eggs before the kids stage a revolt? We'll have to start getting creative with them.

Care to share any favorite dishes that use lots of eggs?